Saving Species
One of the primary missions of the Rosamond Gifford Zoo and our fellow accredited institutions in the Association of Zoos & Aquariums (AZA) is saving endangered species from extinction. Our 240 top-tier zoos and aquariums collectively approach this mission via a variety of programs to protect and maintain populations of endangered species in our care while also pooling our resources, time and energy to combat the threats that are decreasing their numbers in the wild.
Below are some of the ways that we and other AZA zoos are working to save threatened and endangered species in our care and around the world:
SPECIES SURVIVAL PLANS
AZA zoos participate in cooperatively managed Species Survival Plan® (SSP) programs to manage populations of select species within our member and partner institutions and to work toward conservation of these species in the wild. Each SSP Program coordinates the activities of every participating member institution through a variety of species conservation, research, husbandry, management and educational initiatives.
There are over 500 SSP Programs, each managed by a corresponding Taxon Advisory Group (TAG), within AZA to ensure the sustainability of a healthy, genetically diverse and demographically varied "assurance" population of that species in our care. AZA institutions only pair animals for breeding based on recommendations from the SSP, to ensure that their genetic profiles will produce strong, healthy, genetically diverse offspring for the best chance of preserving the species.
Our zoo is in charge of five SSP studbooks containing the genetic and breeding history for the endangered Turkmenian markhor, Armenian mouflon, fairy bluebird, patas monkey and Thorold's white-lipped deer. We also are nationally recognized as a leader in the care and husbandry of critically endangered Asian elephants. Among other SSPs for threatened and endangered species that we participate in are: Amur tiger, Amur leopard, black and white ruffed lemur, Humboldt penguin, red panda, red wolf, snow leopard, Panamanian Golden frog, and many more.
The Rosamond Gifford Zoo holds the studbook for the Turkmenian markhor.
AZA SAFE (Saving Animals From Extinction)
The AZA SAFE program was founded in 2015 to focus the collective expertise within AZA-accredited zoos and aquariums and leverages their massive audiences to save threatened and endangered species. SAFE provides a framework of activities that:
Protects threatened animals.

Builds on established recovery plans and history of commitment.

Prioritizes collaboration among AZA member institutions.

Implements strategic conservation and stakeholder engagement activities.

Measures and reports conservation progress.
Learn about the AZA SAFE species and see the progress reports at aza.org/aza-safe.
Asian elephants are among the SAFE species with dedicated AZA conservation programs aimed at countering habitat loss, fragmentation and degradation of their wild populations.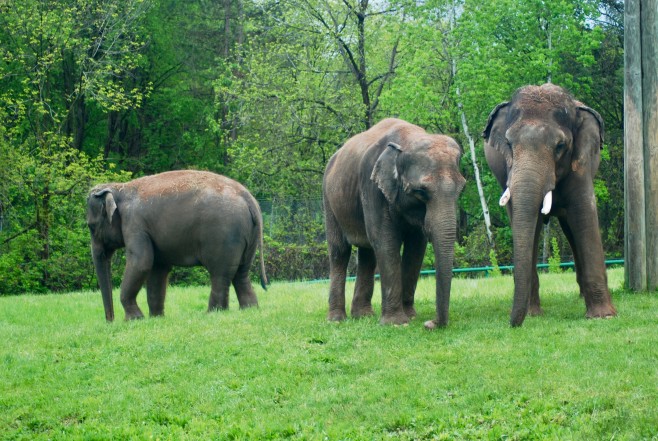 SAVING A LOCAL ENDANGERED SPECIES - the Chittenango Ovate Amber Snail
The COAS is a tiny and rare resident of Upstate New York's backyard! The only place in the world this species exists is at Chittenango Falls State Park. What is it?! An adorable little snail named the Chittenango ovate amber snail -- COAS for short. Living in the mist zone of a 167-foot waterfall, this thumbnail-sized land snail glides along vegetation finding decaying leaves to munch on. Recent population surveys of COAS show only about 300 snails exist in the wild.
Since they only live in one spot in the world, the COAS is particularly vulnerable to extinction. Just one event such as a severe flood, drought or rockslide could potentially wipe out their entire population! There also are invasive species of plants encroaching on their habitat that may out-compete native vegetation needed by COAS to survive. Human trampling of the habitat is also of concern because these small snails are hard to see and can be easily crushed underfoot. The park has fenced off an area to protect COAS habitat for this reason!
A group of concerned conservation organizations - including the zoo -- have teamed up to save this little snail. The "Snailblazers" include SUNY-ESF researchers who have led the way in determining how to hand-rear COAS in human care, as well as the U.S. Fish and Wildlife Service, the NYS Department of Environmental Conservation, the NYS Office of Parks, Recreation and Historic Preservation, the Rosamond Gifford Zoo and the Seneca Park Zoo in Rochester.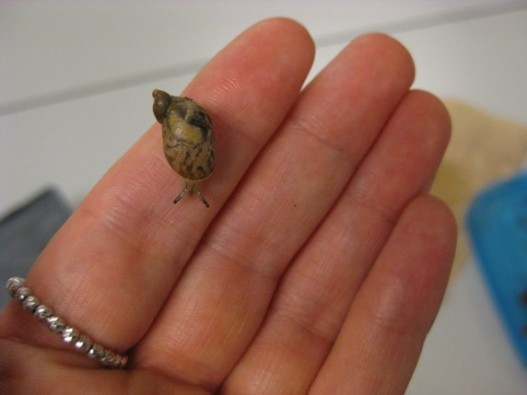 Collaboration
New York State listed COAS as endangered in 1977 and the USFWS listed the species as threatened in 1978. A recovery plan was set in place that included establishing captive colonies of COAS to provide backup for the wild population as well as potentially increase the wild population via captive-raised snail releases. In the past two years, snails bred and raised at ESF and at the zoo have been released into the wild to help this species survive.
Research supported by the Great Lakes Restoration Initiative has revealed dietary preferences and snail husbandry data that has enabled the Snailblazers to maintain assurance populations of COAS in our carle. Terrariums kept inside a temperature controlled incubator house approximately 400 captive COAS between the newly established Rosamond Gifford Zoo colony and a colony of snails kept at SUNY ESF.
SAVE THE SNAILS!
The Friends of the Zoo has a fund dedicated to the ongoing effort to save this species from extinction. Click HERE to contribute. Please earmark it 'Save the Snails' in your note. THANK YOU!
Links and press:
https://www.fws.gov/northeast/nyfo/es/coas.htm
http://wrvo.org/post/scientists-working-save-endangered-species-extinction-central-new-york
https://blogs.scientificamerican.com/extinction-countdown/stowaway-snail/
http://dailyorange.com/tags/chittenango-ovate-amber-snail/
http://www.esf.edu/communications/view.asp?newsID=3809
http://www.eaglenewsonline.com/news/2015/10/01/near-extinct-snails-repopulated-chittenango-falls
FOLLOW THE SNAILBLAZERS ON FACEBOOK at facebook.com/SnailblazersNY