Conservation at Home
Are you interested in ways that you can help animals and our planet with your everyday actions? There are many things you can do to practice conservation in your own home and backyard.
Plant Trees
Planting trees in your yard helps reduce carbon in the atmosphere because trees consume carbon dioxide and release oxygen. Learn more about how planting trees can combat climate change at www.nationalgeographic.com/environment/2019/07/how-to-erase-100-years-carbon-emissions-plant-trees.
Planting deciduous trees (those that lose leaves in the fall) on the south side of your yard is an easy and attractive way to be more energy efficient; the trees will block the sun's heat in the summer and allow it to come through in winter.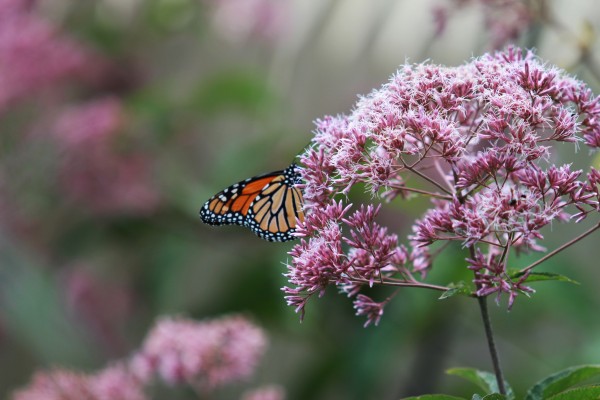 Pollinator Gardens and Bird Feeders
Many species of animals are suffering from habitat loss. You can help by creating a pollinator garden in your own backyard. A pollinator garden is a beautiful way to grow food for butterflies, bees and birds. Planting native species including milkweed and echinacea reduces the need for fertilizer and water, because these species are adapted to living in your environment. If you add bird feeding stations, remember to keep them filled year-round. Birds need more help finding food in winter.
Here are some web pages to help you help pollinators and birds:
Reduce Unwanted Mail
Tired of receiving tons of paper in your mailbox every day? You can sign up for paper free communications from your bank, credit card company, health insurance providers and more. Check their websites to sign up for email or text messages instead of snail mail.
You can also "opt out" of unsolicited junk mail by notifying the top mail marketing companies that you want off their lists. Find out how at https://www.consumer.ftc.gov/articles/0262-stopping-unsolicited-mail-phone-calls-and-email.
Reduce, Reuse, Recycle!
Once you start paying more attention to how much "garbage" you are responsible for sending to your local landfill, you will see how easy it is to reduce, reuse and recycle.
When you go shopping, look for products that come in recyclable containers such as glass or aluminum. If you must buy plastic, look on the bottom of the container for a number 1, 2 or PETE symbol. These items are the easiest to recycle. Avoid containers with a number any higher than 2. You can see our local recycling guide at https://ocrra.org/wp-content/uploads/1/20Be16/06/recycling-rules-080516.pdf
Instead of buying water in plastic bottles or buying bags at the store, purchase a refillable water bottle and reusable shopping bags that you can use over and over. The Curious Cub Gift Shop at the zoo has some great water bottles and tote bags. Check them out at www.syracusezooevents.org/shop.
Start a home compost bin! Anything biodegradable that you now toss in the trash can be turned into "black gold" for your garden. There's no better or cheaper fertilizer for your vegetable or butterfly garden, and you'll be amazed at how much less waste you bring to the curb. Learn how at http://cceonondaga.org/gardening/compost-resources.
Be a Sustainable Shopper!
Some of the choices we make when purchasing food can help or harm endangered animals around the world. Some of our fellow Association of Zoos & Aquariums institutions have create mobile apps that can help you choose green alternatives.
Seafood Watch: Our friends at the Monterey Bay Aquarium founded the Seafood Watch program to help the public identify the most sustainable choices of seafood to buy in hopes of protecting our ocean fisheries. Use their consumer guide or download their mobile app at https://www.seafoodwatch.org.
Sustainable Palm Oil: Did you know that many of the products you use every day -- including treats like candy, ice cream, popcorn and soft drinks -- are made with palm oil? The problem is, some palm oil comes from plantations created by cutting down rainforests that are home to endangered species like orangutans, elephants and rhinos. Our friends at the Cheyenne Mountain Zoo created a Sustainable Palm Oil Shopping App to help you learn which products are palm-oil free or use only sustainably sourced palm oil. Find it at https://www.cmzoo.org/conservation/orangutans-palm-oil/sustainable-palm-oil-shopping-app/