Rosamond Gifford Zoo Animals Participate in COVID Vaccine Trial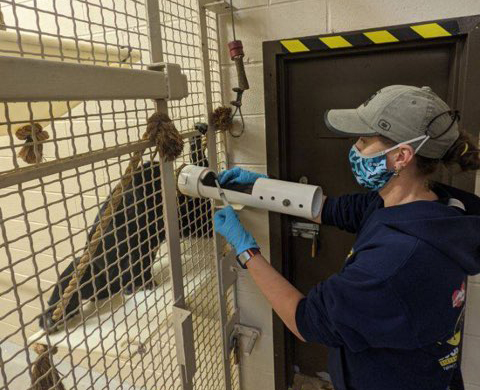 When the COVID-19 virus first reared its head in humans, scientists believe it did so as a zoonotic illness that jumped from bats to people. Weeks after the virus became a global human pandemic, a 4-year-old tiger at the Bronx Zoo came down with a cough and tested positive for COVID.
Since then, animals ranging from gorillas to minks to other big cats have become infected with COVID, according to the Centers for Disease Control.
"There have been reports of animals infected with the virus worldwide," the CDC says on its website. "Most of these animals became infected after contact with people with COVID-19."
That's why the zoo required visitors to mask up even in outdoor areas before a majority of people were vaccinated, said Zoo Director Ted Fox. And that's why the zoo has signed up to participate in a COVID-19 vaccine trial for animals.
"As an accredited zoo, our number-one priority is protecting animals, especially endangered species," Ted said. "We jumped at the chance to be among the first zoos to vaccinate our animals and we are really excited to be selected to receive some of the limited number of doses being tested for animals."
The vaccine was developed by Zoetis, a world leader in animal health that has provided vaccines and diagnostic tests for emerging infectious diseases in animals. Zoetis initially began work on a vaccine for domestic animals that has been demonstrated to be safe in dogs and cats and has so far shown to be efficacious.
"The vaccine development work then shifted to minks last year as the incidence in that species escalated in Denmark and other countries and demonstrated a critical need," Zoetis said.
In January, the San Diego Zoo asked Zoetis to develop a vaccine for great apes after eight gorillas tested positive for COVID. In March, the zoo vaccinated four orangutans and five bonobos with the trial vaccine.
Scientists hope that vaccinating animals may prevent a COVID spillover back to humans as well as protect animals from contracting the disease from unvaccinated people.
Ted said the Rosamond Gifford Zoo applied to be in the Zoetis trial and had to go through a lengthy state approval process. The zoo will receive enough doses to vaccinate 21 animals including primates, big cats and other mammals for the first round of the trial. That could increase if the zoo is allotted more doses, Ted said.
Thanks to daily training sessions that allow animals to participate in their own health care, most of the zoo's animals do not have to be restrained, sedated or stressed in any way to receive vaccinations.
Abe the siamang ape is used to putting his arm through a plastic sleeve for blood draws in exchange for treats. Elephants are rewarded for allowing blood draws from their ears. Big cats get blood draws and receive vaccinations by offering their tails.
"We use positive reinforcement to train our animals to do many behaviors like open their mouths so we can inspect their teeth, lift their feet or stand up to allow an ultrasound," Ted said. "With all this routine training, our zoo animals are the perfect candidates to receive the first vaccines for animals."
The Zoetis trial will help not just zoo animals. Domestic animals will benefit from the research, as will wild species that have been part of spreading zoonotic diseases in the past. Wild animals can potentially be vaccinated orally by eating tasty baits that contain the vaccine, which could help curb the spread of COVID-like viruses worldwide.
Zoonotic (/zuː.əˈnɑː.t̬ɪk/) – adjective, BIOLOGY, MEDICAL
(of a disease) able to spread from animals to humans: Rabies is perhaps the best-known and most feared of all zoonotic diseases.
Zoonotic transfer of pathogens to humans has been attributed to changes in natural environments for expanded global food production.
Many high-impact diseases tend to be zoonotic diseases that emerge from wildlife like HIV and SARS did.
Vector-borne and zoonotic diseases include Lyme disease, West Nile virus, malaria or dengue fever.
Scientific theory suggests these viruses have repeatedly jumped from nonhuman primates to human beings in a process known as zoonotic transfer.