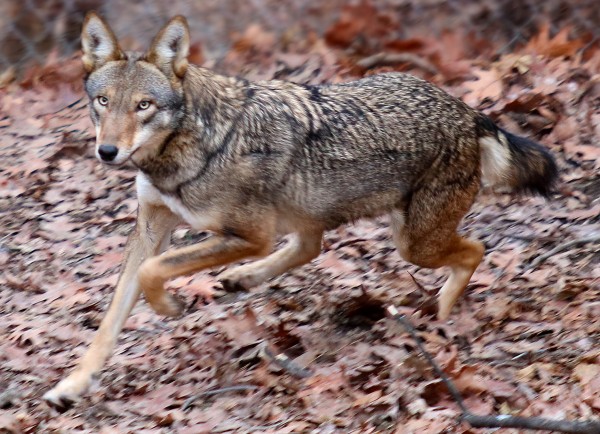 Due to their elusive nature, most people will go their whole lives without ever seeing a red wolf in the wild and, as you visit the zoo you may feel it's true here as well – especially if you are looking for the zoo's newest resident red wolf, Evie. Evie is exceptionally shy even for her notoriously stealthy species.
With only 200 red wolves in human care and an estimated 10-20 remaining in the wild, the species is the most endangered canine on earth.
"This is like the quintessential species of why zoos matter," said collections manager Seth Groesbeck. "This animal would not exist if it wasn't for zoos. Zoos collected these animals from the wild when their population was crashing, bred them and have reintroduced them to the wild."
The acquisition of Evie from Point Defiance Zoo in Tacoma, WA continues the zoo's conservation efforts and increases the likelihood of eventually bolstering the wild red wolf population. It is possible to introduce red wolf pups from human care to wild red wolf mothers, so the goal is to develop and maintain a stable, captive population of red wolves to introduce back into the wild.
Because of this, keepers limit their interactions with our red wolves in an effort to preserve the red wolves' "semiwild" mentality so they can thrive if and when they are reintroduced to the wild.
With Evie and Waya likely to work as a breeding pair, the zoo hopes to someday welcome a litter of red wolf pups. A litter of two to six may not sound like much, but with an estimated 10-20 remaining in the wild, each red wolf is vitally important to the survival of the species!
"Without the Species Survival Programs, they wouldn't have made it," said carnivore keeper Hannah Vona. "I would have never seen a red wolf – they would already have been extinct."
If you're feeling lucky, come on out and see this incredibly rare and mysterious canine. For the best chance of catching a glimpse of this elusive beauty, we recommend visiting her exhibit either early in the morning or late in the afternoon.