Celebrate the Season at the Rosamond Gifford Zoo!
Happy November, everyone! During this season of gratitude, we have so much to be thankful for at the zoo.
CONSERVATION IN ACTION
The Rosamond Gifford Zoo recently announced that red panda Simone had her first baby here at the zoo! The red panda baby is happy, healthy and of course – adorable!
Red pandas have an endangered population status in the wild. Simone's baby is an incredible achievement for the Species Survival Plan, as her bloodline is extremely valuable to the species. We are honored to be able to bring one more of these extraordinary animals into the world.
Our animal care team works tirelessly to give high-quality care to all our animals. We are so thankful for our incredible team that brings our conservation mission to life!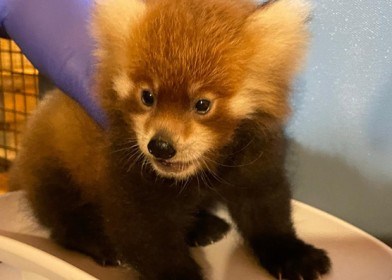 CELEBRATE WITH OUR ANIMALS
As the end of the year comes closer into view, we have amazing events that celebrate our animals in a way you won't want to miss!
This Saturday, November 5th is our annual Squishing of the Squash event, where we give our animals the season's leftover pumpkins for enrichment. Our animals receive enrichment items often to engage their curiosity and encourage their natural behaviors. Come see our animals chomp, stomp and play with their pumpkins!
Do you know what's better than a Thanksgiving with Friends? A Thanksgiving with Friends where you don't have to cook or wash dishes!
Friends of the Zoo invites you to our Friendsgiving Feast, a Thanksgiving dinner prepared by our incredible catering team. Join us on November 11 for a delicious buffet and an evening to remember.
The age-old debate: To play or not to play holiday music before Thanksgiving...
Well whatever the answer is, everyone here is getting ready for our second annual Holiday Nights event. From December 2 to 17 on Fridays and Saturdays, we welcome guests to enjoy our zoo during the evenings with holiday lights and fun. The high school engineering students at PTech are already working hard to bring animal-shaped light displays to the zoo.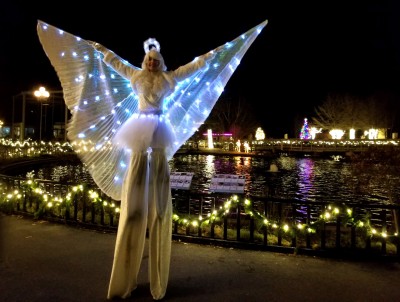 This year, Friends of the Zoo is thrilled to begin a new partnership, "Zoo United" with the United Way of Central New York. Friends will donate $1 of every hot chocolate sold to this community organization.
In addition to dazzling light displays throughout the zoo, Holidays Nights will feature live holiday music, cozy campfires, hot chocolate, smore's and a holiday shop with items from local vendors! Tickets are on sale now – so make sure to get tickets to our winter wonderland!
On December 31, we invite families to ring in the New year at our Noon Year's Eve celebration fit for your child's bedtime. Families can watch our ball drop at noon while kids toast sparkling juice and celebrate with dancing, food and fun!
MAKE US YOUR HOLIDAY GIVING HEADQUARTERS
Give a gift that makes memories for a lifetime. When guests purchase or renew a zoo membership, they give a gift to wildlife and help efforts to save animals in the wild. Additionally, our Curious Cub Gift Shop has a variety of gifts your loved ones are sure to love!
NEW! Not sure what to get at the zoo as a gift? Then buy a gift card! Friends of the Zoo is thrilled to newly offer gift cards our guests can use in our gift shop and cafes.
Give a gift this year that celebrates our animals and the special place they hold in our world and in our hearts.
As always, I want to say how grateful we are for all our zoo visitors, partners and members. Your passion and love for animals fuels everything we can do here. We thank you for your consistent support.