Friends of the Zoo Names New Director of Human Resources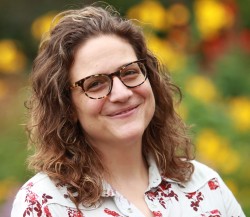 SYRACUSE, NY, September 28, 2021 — The Friends of the Rosamond Gifford Zoo has hired Rachel Leonardo as its new director of human resources. Leonardo is responsible for all human resources for the non-profit organization that supports the zoo and its missions.
Leonardo, a Syracuse native, served as director of human resources for ACR Health for most of the past five years. She has worked in HR since 2012 and holds a masters' degree in television, radio and film from the Newhouse School of Public Communications at Syracuse University.
"Rachel has a lot of experience in human resources and she's a great communicator," said Friends of the Zoo Executive Director Carrie Large. "Besides her understanding of all the facets of HR, she is approachable for our employees and will help enhance our work culture to the level that everyone will want to work at the zoo."
Leonardo is a graduate of East Syracuse-Minoa High School, Onondaga Community College and SUNY Brockport, where she earned a BA in Communications in 2002. After a stint working at a children's learning center in Beverly Hills, CA, she missed "the seasons and my family" and moved home to Syracuse, she said.
In 2009 she went back to school for her master's in communications at Newhouse while working at a Starbucks in Fayetteville, interning at Clear Channel Communications and working as a teaching assistant at SU.
On completing her MA, she joined United Radio, a Syracuse electronics repair company, as human resources administrator. "I wanted to stay in the Syracuse area and a position opened up there in HR," she said. "Part of the job was to be a liaison between employees and upper management, which involved a lot of communications skills – and that's how I fell into HR."
In 2015, she jumped at the chance to work at ACR Health, formerly AIDS Community Resources, whose Q Center for LGBTQ youth she had served as a volunteer during college. Over five years she rose from administrative assistant in Human Resources/Finance to human resources generalist to director of human resources.
After ACR, she worked Davis Standard LLC in Fulton which gave her an opportunity to learn more about the manufacturing environment and working with unions. She enjoyed it and learned a lot but couldn't resist pursuing a "dream job" she saw posted on Indeed – HR Director for Friends of the Zoo.
On visiting for the first time in years, she found the zoo more attractive and inspiring than she remembered, from the animals to the devoted staff to the beautiful grounds.
"The environment here is good for the soul," she said. "I love having the opportunity to be part of a team that's creating this amazing space for a community I love."