Friends of the Zoo Promotes Allison Walts to Executive Chef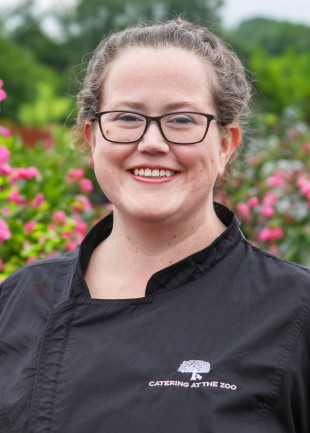 The Friends of the Rosamond Gifford Zoo are proud to announce the promotion of Sous Chef Allison Walts to executive chef. Catering at the Zoo's current Executive Chef, Dan Hudson, is departing to join the culinary staff for the Georgia Bulldogs Football team.

"Chef Dan's skill and dedication has played a key role in Catering at the Zoo growing our catering business, which is now double pre-Covid volume. With his knowledge, creativity and vision, we overhauled our menus and truly raised our game across the board," said Executive Director of the Friends of the Zoo, Carrie Large. "Chef Dan brought people together through monthly pairing dinners, fundraisers and weddings, and did an amazing job establishing Catering at the Zoo as a bona fide catering option in Central New York. His contributions will be felt for years to come, and we wish him the best of luck!"
Walts, who earned a bachelor of science degree at Clarkson University in 2008, withdrew from law school in 2010 to pursue a culinary career. Since then, she's developed extensive experience in working and leading kitchens, as well as overseeing catering events — which she said is always her favorite aspect of her job. She's helped plan and execute weddings, charity functions, festivals, holiday banquets, and more, all while maintaining restaurant standards and enforcing food safety guidelines and procedures.
Her experience is extensive and varied, having worked in many restaurant kitchens and, more recently, as a private chef for fraternities and sororities at Syracuse University and Cornell University with a company called Gill Grilling. She also spent ten years at the Sherwood Inn in Skaneateles, working her way up from prep cook to sous chef/ kitchen supervisor alongside Chef Dan.
Walts joined the Friends of the Zoo's Catering department as sous chef in July 2021, but has enjoyed collaborating with Chef Dan for 13 years.
"Dan has been my mentor and friend for more than a decade; while I am sad to see him leave, I am also excited to continue the work we've done together — and to add my own personal touches," Walts said. "Our culinary tastes are very similar, and we share a passion for quality and earnestness in food and cooking. I will miss him very much and wish him all the best in his new adventure."
The transition will be seamless — guests can expect the same excellence and expertise in our cuisine, complete with Chef Allison's own flair.
"Chef Allison has been our secret weapon for a couple of years under Chef Dan here at the zoo. She has earned this promotion with her work ethic and commitment to quality," Catering at the Zoo Director Chuck Anthony said. "We are thrilled to see her step up into the executive chef role and we can't wait to watch her lead the culinary team into our next phase."
Walts' promotion to executive chef represents the culmination of her lifelong culinary aspirations and is a significant achievement for women in this industry.
"I've wanted to be a chef since I was a little girl, watching Julia Child on my parents' black-and-white television set," Walts said. "This is truly a dream come true."
"We are lucky to have such a talent here at the zoo and proud to promote a woman to executive chef as just 12.5% of executive chefs are women. Chef Allison will rise to the occasion and absolutely ignite our guests taste buds," said Large.
Walts has been coming to the zoo for over 30 years and takes pride in the knowledge that her everyday work is directly contributing to the welfare of the animals in the zoo's care. Under her guidance, the zoo's catering department will continue to thrive and expand while maintaining the prestige and professionalism that has helped Catering at the Zoo to grow and garner such rave reviews in the last three years.